From Day to Night: Styling Tips for Gold Diamond Earrings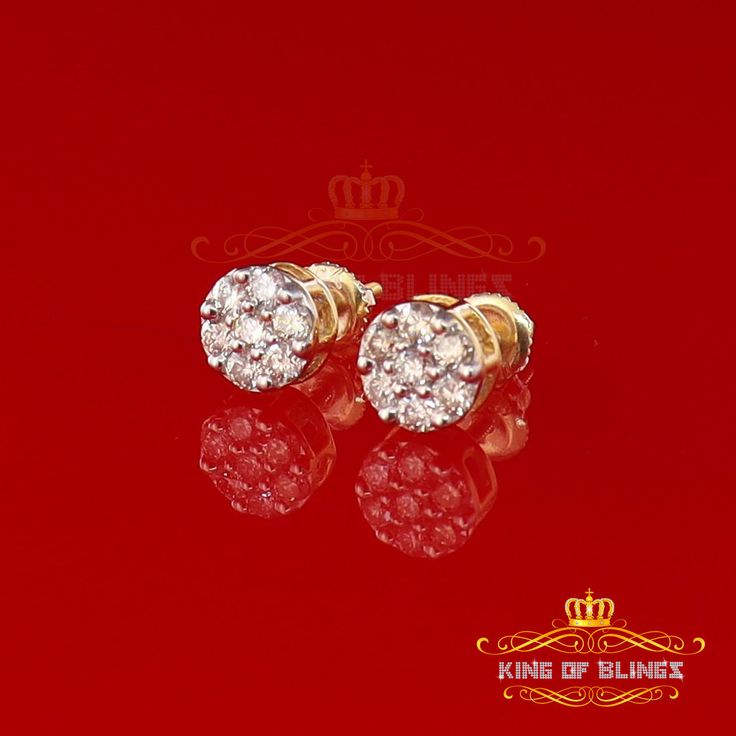 Gold diamond earrings are timeless pieces of jewelry that can effortlessly elevate any outfit, whether it's for a casual daytime look or an elegant evening affair. The versatility of these stunning accessories lies in their ability to transition seamlessly from day to night, adding a touch of sophistication and glamour to your overall ensemble. In this blog, we will explore various styling tips that will help you make the most of your gold diamond earrings, ensuring you shine brightly from morning to dusk.
1)
Versatility And Personalization
One of the greatest advantages of gold diamond earrings is their versatility and ability to reflect your personal style. Consider investing in convertible earrings that can be transformed from studs to dangling earrings or hoops. This allows you to adapt your accessories to different occasions and outfits, maximizing their potential.
Additionally, you can personalize your gold diamond earrings by incorporating colored gemstones or engraving. Birthstones or favorite gemstones can add a pop of color and imbue your earrings with sentimental value. Engraving your initials, a meaningful symbol or a special date can also make your earrings truly unique and cherished.
2)
Daytime Glamour
When it comes to incorporating gold diamond earrings into your daytime outfits, it's important to strike a balance between elegance and practicality. Opt for smaller, more understated designs that won't overwhelm your overall look. Consider delicate studs or small hoops adorned with dainty diamonds. These pieces add a touch of sophistication without being too ostentatious.
Pair your gold diamond earrings with casual ensembles such as a white blouse and jeans, a flowy sundress, or a tailored blazer and trousers. The contrast between the relaxed nature of your outfit and the refined sparkle of the earrings will create a striking visual appeal. Avoid overwhelming your daytime look with excessive accessories, allowing your gold diamond earrings to take center stage.
3)
Transitioning To Evening Glamour
When the sun sets and the night comes alive, it's time to bring out the glamour. Gold diamond earrings are the perfect accessory to elevate your evening attire and make a statement. Opt for larger designs that feature intricate diamond settings or dangling diamond drops to capture the attention of everyone in the room.
For a formal event, pair your gold diamond earrings with an elegant black evening gown or a sophisticated cocktail dress. A pair of chandelier earrings or long drop earrings will instantly add a touch of glamour to your ensemble, framing your face and drawing attention to your natural beauty. Consider coordinating your earrings with other gold and diamond jewelry, such as a matching necklace or bracelet, for a cohesive and radiant look.
If you're heading out for a night on the town with friends, opt for bold and eye-catching gold diamond hoops or statement studs. These designs will add a glamorous edge to your outfit, whether you're wearing a sleek jumpsuit or a stylish little black dress. Let your earrings be the focal point by keeping the rest of your jewelry minimal and opting for a complementary hairstyle.
4)
Mix And Match
One of the most exciting aspects of gold diamond earrings is their ability to be mixed and matched with other jewelry pieces. Experiment with different combinations to create a unique and personalized style statement. Pair your gold diamond earrings with a delicate pendant necklace, a stack of dainty gold rings, or a statement bracelet.
Consider the overall color palette when mixing and matching jewelry. If your gold diamond earrings feature white diamonds, try incorporating other white gold or platinum accessories for a cohesive and polished look. Remember to strike a balance between boldness and subtlety, ensuring that your earrings remain the focal point while complementing the other pieces.
5)
Versatile Transformations
The beauty of gold diamond earrings lies in their ability to seamlessly transition from day to night. By following these versatile transformations, you can maximize the wearability of your earrings:
Convertible Designs: Look for gold diamond earrings with removable components. Some designs offer detachable drops or enhancers that can transform your earrings from a simple daytime style to an extravagant evening look.
Layering: Experiment with layering your gold diamond earrings. Add huggie hoops or small studs to your existing pair to create a personalized and unique look that suits any occasion.
Jacket Earrings: Consider investing in jacket earrings, which come with detachable decorative elements that can be added or removed as desired. This versatile style allows you to switch between a subtle daytime look and a glamorous evening statement.
6)
Office Glam
Transitioning from a day at the office to an evening event can be made effortless with the right choice of gold diamond earrings. In a professional setting, it's best to stick to smaller, more conservative designs. Consider elegant gold hoops with a row of diamonds or small dangling earrings that exude refinement.
Pair your gold diamond earrings with tailored suits, pencil skirts, or dresses in neutral tones. The earrings will enhance your professional image and add a touch of sophistication without being too distracting. Remember, the key is to keep the focus on your professionalism while still showcasing your personal style.
Conclusion
Gold diamond earrings are versatile accessories that can effortlessly transition from day to night, adding a touch of elegance and glamour to any outfit, enhancing your style and adding a touch of elegance to any outfit. Whether you choose delicate studs for a daytime chic look or opt for statement earrings to dazzle in the evening, there is a perfect pair for every occasion.
Remember to consider your personal style and experiment with different designs, sizes, and shapes to find the gold diamond earrings that speak to you. Embrace the versatility of convertible earrings and consider adding personal touches such as colored gemstones or engraving to make them truly your own.
With these styling tips in mind, you are now equipped to confidently rock your gold diamond earrings and make a lasting impression from the break of dawn to the twilight hours. So go ahead, embrace the elegance of gold diamond earrings, and let them be your go-to accessory for every day and every night!