Elevate Your Style: Incorporating Gold Diamond Earrings into Your Wardrobe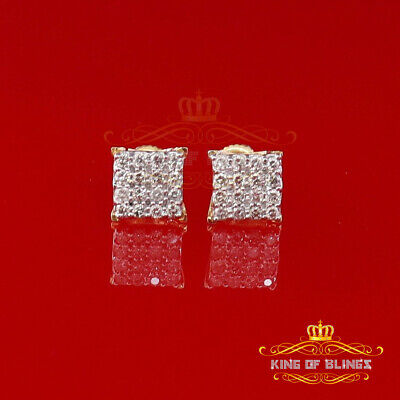 When it comes to enhancing your personal style, jewelry plays a vital role. One piece that can truly elevate your look is a pair of gold diamond earrings. The combination of timeless gold and the dazzling sparkle of diamonds creates an aura of sophistication and glamour. Whether you're attending a formal event, a casual gathering, or even just heading to the office, incorporating gold diamond earrings into your wardrobe can effortlessly transform your overall appearance. In this blog post, we will explore various ways to incorporate these stunning earrings into your everyday outfits, adding a touch of elegance and luxury to any ensemble.
1)
Classic Elegance
Gold diamond earrings are synonymous with classic elegance, and they effortlessly elevate any ensemble. For a formal occasion, consider pairing a stunning pair of chandelier-style diamond earrings with a little black dress, allowing them to take center stage. The combination of gold and diamonds adds a touch of luxury and refinement to your overall look. If you prefer a more understated style, opt for delicate gold diamond studs that can be worn with almost anything, from casual jeans and a t-shirt to a tailored suit. Their versatility ensures you'll always have a touch of sophistication, no matter the occasion.
2)
Bohemian Glam
If you have a free-spirited, bohemian style, you can still incorporate gold diamond earrings into your wardrobe in unique ways. Look for earrings that combine gold with other gemstones, such as turquoise or opal. These colorful accents will add a bohemian touch to your overall look while still maintaining an air of luxury and elegance. Pair them with a flowy maxi dresses, layered necklaces, and loose curls for a truly bohemian-inspired ensemble that embraces both glamour and natural beauty.
3)
Professional Sophistication
If you want to make a strong impression in the workplace, gold diamond earrings are the perfect accessory. Opt for classic hoops or drop earrings with a single diamond or a cluster of diamonds. These elegant choices will add a touch of professionalism to your attire without being overpowering. Pair them with a tailored blazer, a pencil skirt, or a pantsuit to exude confidence and showcase your attention to detail. The subtle sparkle of the diamonds will draw attention to your face and enhance your overall appearance, leaving a lasting impression.
4)
Versatility For All Occasions
One of the greatest advantages of gold diamond earrings is their versatility. Regardless of the occasion, these earrings can be effortlessly incorporated into your wardrobe. Here are some style suggestions to inspire you:
Everyday Elegance: For your everyday looks, opt for smaller, more delicate gold diamond studs or hoops. They add a subtle sparkle and sophistication to your outfit without overwhelming it. Whether you're heading to the office, meeting friends for brunch, or running errands, these earrings will effortlessly elevate your style.
Formal Affairs: When attending formal events such as weddings, galas, or black-tie parties, make a statement with larger, more ornate gold diamond earrings. Chandelier earrings or drop earrings with intricate diamond patterns can instantly transform your look into a red carpet-worthy ensemble. Pair them with an elegant evening gown or a sleek cocktail dress for a truly dazzling effect.
Casual Glam: Who says you can't wear gold diamond earrings with your casual outfits? Embrace your personal style and mix high and low fashion by pairing your favorite jeans and a crisp white shirt with a pair of gold diamond hoops or huggy earrings. This unexpected combination creates a chic and effortless look for casual outings or weekend get-togethers.
5)
Personal Expression
Every piece of jewelry we wear tells a story about our personal style and taste. Gold diamond earrings provide an excellent opportunity to express your individuality and add a touch of luxury to your everyday outfits. Whether you prefer a classic, understated look or enjoy experimenting with bold, contemporary designs, there's a pair of gold diamond earrings to suit your style. Remember to choose earrings that resonate with your personality, allowing you to feel confident and empowered whenever you wear them.
6)
Styling Tips
To maximize the impact of your gold diamond earrings, consider the following styling tips:
Match Metals: When choosing gold diamond earrings, consider the color of gold that complements your skin tone and personal style. Yellow gold complements warmer skin tones, while white gold suits cooler complexions. To maintain a cohesive look, match the color of your earrings to other gold jewelry you might be wearing, such as bracelets or necklaces.
Consider Face Shape: Different earring styles can flatter different face shapes. For example, studs or small hoops work well for those with round faces, while drop earrings or long danglers can elongate the face and complement oval or heart-shaped faces. Experiment with different styles to find the ones that enhance your unique features.
Less is More: While gold diamond earrings can make a bold statement, it's important not to overwhelm your overall look. If you opt for larger, more elaborate earrings, keep the rest of your jewelry minimal to avoid a cluttered appearance. Remember, the earrings should be the focal point of your ensemble.
Dress for the Occasion: Consider the event or occasion you're attending and choose your gold diamond earrings accordingly. While larger earrings may be suitable for formal events, they might not be appropriate for a casual outing. Ensure that your earrings align with the overall dress code and mood of the occasion.
Conclusion
Gold diamond earrings are a timeless and versatile addition to any wardrobe. From formal events to casual outings, from office attire to personal expression, these earrings can effortlessly elevate your style and make a statement. Whether you choose classic designs, casual-chic styles, or office-appropriate options, gold diamond earrings are sure to enhance your overall look. Embrace the beauty and luxury they bring, and let them shine as the perfect accessory to complement your outfits. Invest in a pair of gold diamond earrings, and you'll have a go-to accessory that adds elegance, glamour, and sophistication to every occasion.